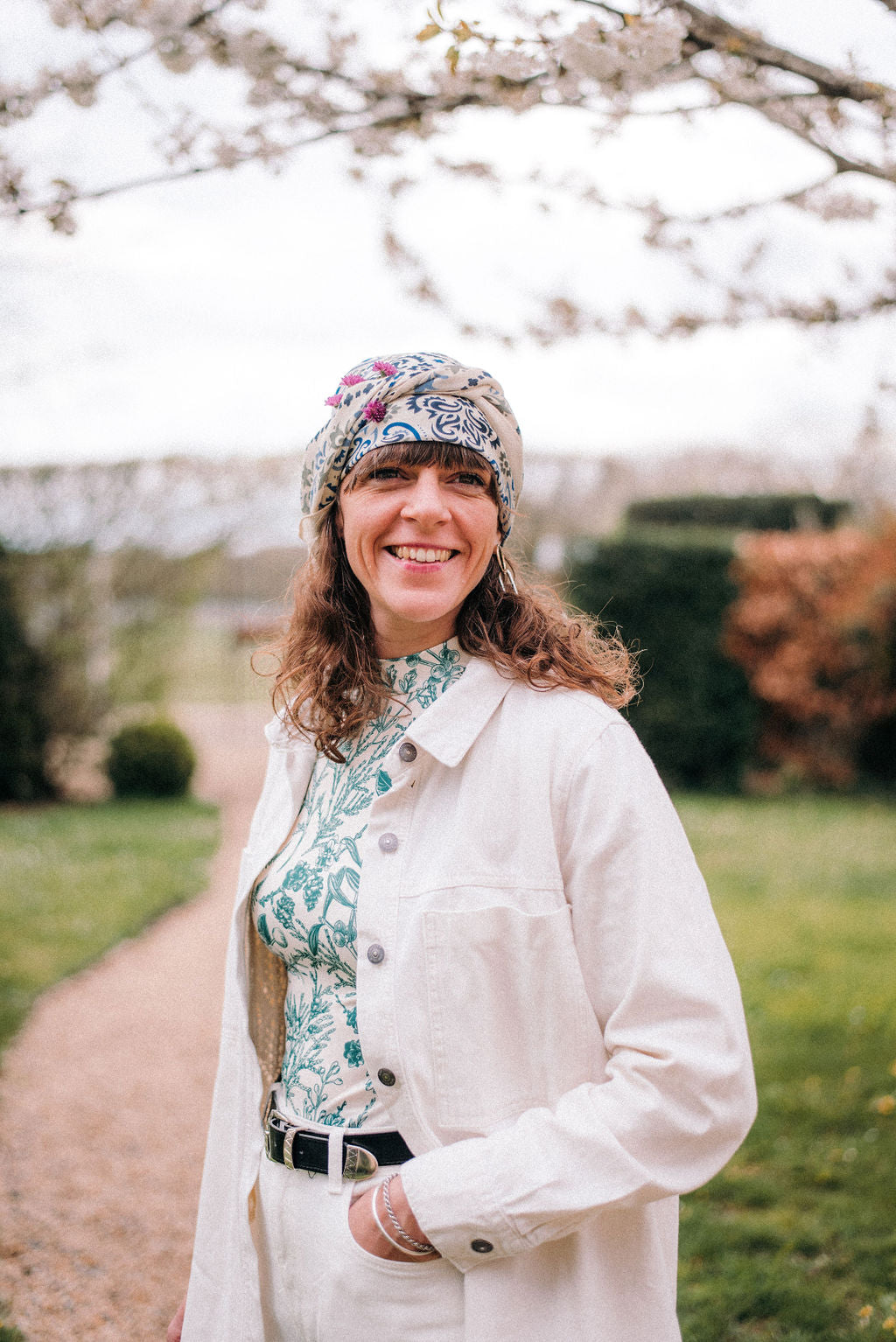 Mixing scarves and flowers, the original trend of the season
With the arrival of sunny days, we only dream of flowers and freshness, of light and colorful scarves. So why not mix the two? An original combination that works perfectly and gives an air as romantic as it is distinguished. Slip a rose into the knot of your scarf, a daisy behind your ear, make a unique crown by mixing anemones with a pretty headband... And head off to enjoy a beautiful summer evening, a walk in the countryside, or even a country wedding. Do you need ideas for mixing scarves and flowers? Discover the looks we offer you and let yourself be inspired.
Scarf and flowers mingle in a braid
This first special "long hair" technique is quite simple to achieve but guarantees you a result that is both original and bohemian. First, choose a scarf with bright patterns, like our fuchsia bandana . The goal is to create a nice contrast between your hair, the scarf and the flowers. Separate your hair into three strips to create a braid. Tie the end of your scarf tightly to the base of one of these bands, so that it hugs your hair. Then create a classic braid by passing the strips of hair over each other. The scarf thus dresses them and blends harmoniously with the mat. All you have to do is close it with an elastic band that you can hide with a few flowers. Don't hesitate to also slip some into the gaps in your braid. Fresh or dried, they will bring a beautifully bohemian look to your hairstyle.
A flower in the ear
Want a decidedly country look? Ultra simple, but very effective, this scarf-flower combination can be done in no time.
Choose a small sized scarf for its dapper and fresh look. Fold it in half to form a triangle. Place it around your neck, point in front, behind or to the side, depending on the style you want to adopt, and tie it tightly. Tie a second knot to hold the scarf in place, taking care not to tighten it too much. You should be able to fit a finger between the scarf and your neck.
Then take a flower: anemone, rose, dahlia… Choose according to your tastes or according to what you find in your garden. For more exoticism, choose orchids or hibiscus flowers.
Then tuck the flower behind your ear. It must be stable enough not to slip. If necessary, secure it with a barrette.
And if you want to play the reminder, choose a scarf with floral patterns, for a spring look, full of fantasy.
In a floral bun
If you have long hair, there is another option available to you. For a demure and romantic look, gather your hair in a bun on top of your head. Tighten it tightly for a classic style, or leave your hair looser for a bohemian style.
Then take a scarf of your choice, small or large, and fold it into a triangle, then on itself, to form a headband.
Wrap this headband around your bun, one or more times, depending on the size of your scarf, and tie a knot. You can let the ends hang down or tuck them under the headband, as you wish.
Then take one or more flowers, and slip them around your bun, trapping their stem in the scarf. The result will be magnificent with rose hips or bellflowers.
You can also adopt a more spectacular look by choosing to adorn your bun with a single large flower, such as a peony, a dahlia or a beautiful rose.
Don't hesitate to coordinate the color of your scarf with that of the flowers you choose, for a more harmonious hairstyle.
Tied at the back of the head
Here is a fourth original way to mix scarf and flowers with our khaki Bandana model. And this time, it's the scarf that steals the show. A cheerful, country look, perfect if you want to show off your favorite large scarf, while protecting yourself from the sun.
So take a large scarf, which can cover your entire head, and go down to your neck. Preferably choose it colorful, or with pretty patterns.
Fold it into a triangle, and place it on your head, point at the back, fairly low on your forehead.
Then fold the two ends of the scarf behind your head and tie them.
The scarf should not slip off your head. To hold it in place, you can tie a second knot.
Once you're decked out in your scarf, all you have to do is slip a few flowers into the bow at the back of your head, like tulips. Here again, don't hesitate to choose flowers whose colors recall those of your scarf.
And if you prefer a plain model, play the contrast card, the result will be even more sophisticated.
Flowers to adorn your turban
What if you transformed your scarf into a turban ? It could not be easier. Fold your scarf into a point and place it on your head so that it completely covers your hair. Then tie it at the back and iron the ends in front, this time making a double knot above your forehead. You will get two small tips that you can tuck in or not, depending on the style you want to adopt. Take the end of the scarf hanging at the back of your head and fold it into a roll, tucking it into the scarf. You will thus create a sort of sausage into which you can slip the flowers. To ensure that your turban does not move during the operation, hold it by placing the other hand on your forehead. Now is the time to add the final touch to your hairstyle by choosing the flowers that will adorn yourturban . The operation can be tricky with the rigid rods, which risk causing snags in your scarf. So don't hesitate to ask a friend to help you create this pretty improvised bouquet. Roses, wildflowers and dried statice will give you an original and romantic look. Are you ready to turn heads?
We don't always think of mixing scarves and flowers... However, this original combination will allow you to create a unique and elegant look, off the beaten track. So don't hesitate to try this new trend, and get noticed with class.